Generate a secure password
Passwords are often underestimated in terms of their importance for data security. However, since their use is very common and relatively simple, we would like to provide you with some useful information regarding password security.
A secure password is essential to keep your data and access secure and confidential. A password should never be easy to guess or easy to break with a program, i.e. by trying many different words.
As computers become more and more powerful, the requirements for a secure password change over time. Still, there are a few simple rules to help you choose or generate a secure password.
Simple rules for secure passwords
Don't use a word that appears in a dictionary: for a computer program it is easy to try all possible dictionaries.
Avoid dates of birth, names, etc. of yourself or people close to you.
Do not use your password for more than one service/user account. If one gets hacked and you password is revealed it's easy to try it for your other accounts. Consider using a password manager.
The longer the better. A secure password should consist of at least 10 characters and should include numbers and special characters. A disadvantage of such passwords is that they are not so easy to remember and writing them down is not a good idea.
Or use at least 6 randomly arranged common words generated by the so called diceware technique. You can learn more about this in detail in the next pages.
Use the diceware technique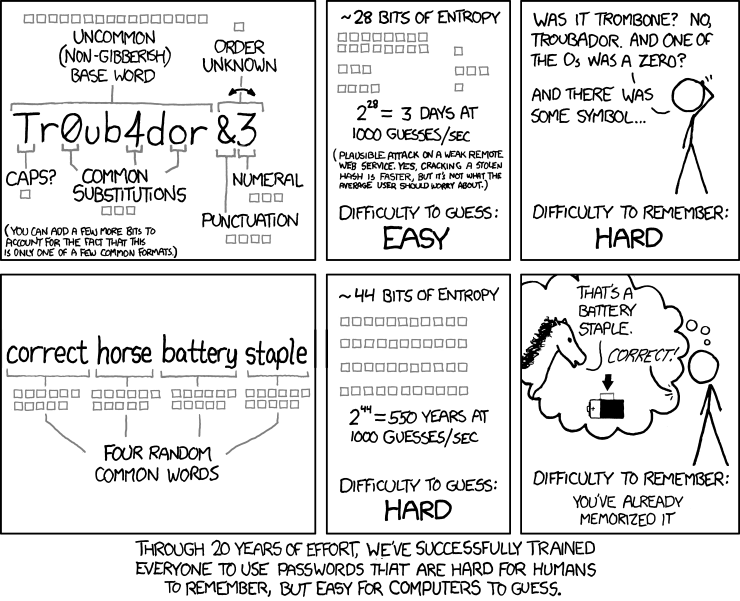 Password manager
Password managers are very handy tools you can use to avoid having to remember all your passwords or to write them down.
When you use a password manager, all you need to remember is one very safe password or passphrase to have access to all your stored passwords. The rest is taken care of by the software helping you generate random and secure passwords for each account and store your credentials safely in an encrypted database on your computer.